NDE Receives Commendation from Emir of Bauchi for Skills Acquisition Training for Bauchi Youth and Women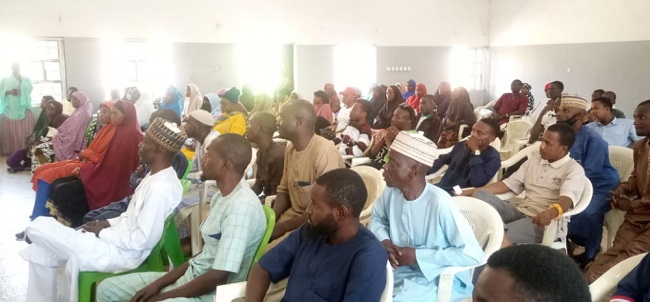 The National Directorate of Employment (NDE) has been commended for its determination to provide jobs to youths and women in Bauchi State through skills acquisition.
The commendation was given by the Emir of Bauchi, Dr. Rilwanu Suleiman Adamu who said the effort is highly commendable as it has engaged the youths in various skill building trainings in the state.
The Emir praised Bauchi, at the start of a week-long training for youths and women on goat rearing and production as well as post-sustainable agricultural development by the NDE in the 'State.
The emir, who is also the chairman of the Bauchi State Council of Traditional Rulers, was represented by one of the emirate's traditional title holders, Malam Zubairu Aliyu.
The Emir pointed out that the roles that the Managing Director of NDE, Mal. Abubakar Fikpo plays by ensuring that the youngsters teaming up in the state are profitably engaged and gain skills in one skill or the others cannot be overemphasized.
According to the emir, "These are very commendable programs and the types that should be implemented by relevant job creation agencies, as they enlighten young people on the different ways of being alone and avoid over-reliance on towards white collar jobs."
He also said, "I very much appreciate the efforts of NDE because in two or three months, they organize various skill building trainings for young people teaming up in the state to help them become self-employed."
READ ALSO FROM NIGERIAN TRIBUNE
The Emir then called on the youths to continue adopting such schemes in order to become employers of labor saying that the time of being spoon-fed is over.
He further called on parents to ensure that their children are engaged in useful endeavors either in farming or learning other skills so that they do not become a nuisance to them, the society and the country as a whole.
NDE Managing Director Malam Abubakar Fikpo in his remarks said that 100 participants were selected from all 20 local government areas in the state for the training.
He explained that 50 participants were selected for the post-sustainable agricultural development training and 50 for the goat production training.
The DG who was represented by the State Coordinator of NDE, Mr. Ali Yaya urged the participants to be very serious and attentive.
He said anyone who did not attend the training would not be considered when it came time to select participants for an upgrade to increase their production.
He added that the trainees would be introduced to various business trainings which would open up their horizons in identifying and approaching various sources of finance to access funds.
One of the participants, Hanat Zakaria, appreciated the MIL for the "kind gesture" and promised to effectively use all the knowledge acquired during the training.