University College alum Francesca Torini applies skills learned at OHIO to her career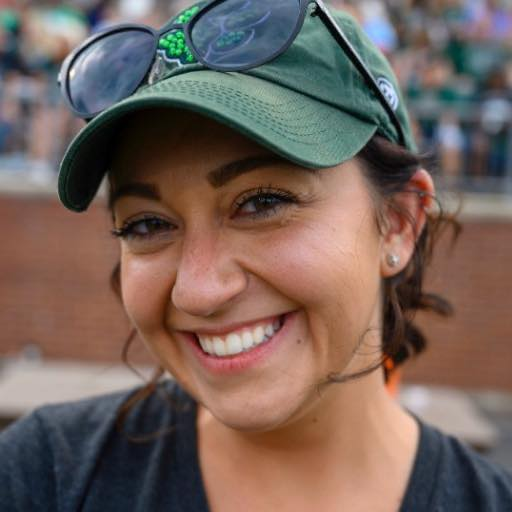 Being a first-generation student didn't stop Francesca Torini from getting involved as a student leader at Ohio University. After graduating in 2019, she is now leveraging the interpersonal and leadership skills she learned at OHIO as a senior management consultant for Beacon Hill Technologies, a national IT consulting firm.
Torini found her job through an OHIO job fair. She started as an account manager and was quickly promoted to her current role. Beacon Hill Technologies – a specialist division of Beacon Hill Staffing Group – operates across all industries providing contracts and consultancy. In his current role, Torini travels to Columbus and meets with business leaders and executives to sell Beacon Hill's staffing services.
Although Torini began her college career as an exercise physiology major, she wanted to take a broader approach to health and wellness. Thus, through the University College of OHIO, she set up her own specialized studies focusing on lifelong fitness and well-being, which allowed her to study different aspects wellness while earning minors in biological sciences and diabetes studies.
"I decided to do my own degree and take a holistic view of all aspects that contribute to well-being," Torini said.
Like many Ohio University students and alumni, Torini fell in love with OHIO during a visit to campus. Her group manager in Steubenville was a former Marching 110 Bobcat and brought her to campus for Homecoming during her sophomore year of high school. For Torini, the OHIO University programs and the Marching 110 had strong appeal, but it was the beautiful campus that sealed the deal.
At OHIO, Torini took advantage of many experiential learning opportunities. She served as an orientation manager for Bobcat Student Orientation and worked as a personal trainer and risk reduction team leader at WellWorks. She was part of a musical fraternity and a business fraternity, in addition to playing the trumpet in the Marching 110. Not only did Torini get to travel to the Bahamas with the Marching 110, but she also met her fiancé, Jacob Austrino , in the group. Torini said that all of his experiences at OHIO, from supporting new students as an orientation manager to helping WellWorks members achieve their wellness goals — and even to be part of the Marching 110 – helped her learn interpersonal skills that she continues to use every day.
As a first-generation student, Torini had to chart her course through college without much parental guidance.
"My parents were extremely supportive of me going to college to get a degree, but they weren't sure how to guide me through the various difficult obstacles that most students face, or where I should go to find professional resources," she said. . "They really didn't know what to say or how to help me since neither of them had gone to college."
Once she learned about the career services provided at OHIO, Torini began meeting with career coaches to review her resume and attend job fairs.
For Torini, time management was one of the challenges she had to overcome.
"When you're involved in all these extracurricular activities and have a job on top of class, it's so important to learn time management skills," she said.
The most memorable course Torini took as a student at OHIO was titled Death, Dying and Bereavement, in which students explore the meaning of death, dying and bereavement from a variety of contemporary perspectives.
"It was such a deep class. Every day we learned about the grieving process and how people deal with death and their emotions differently," Torini said. "I think it was so impactful because the process of death and dying is sometimes a taboo subject and everyone handles their emotions differently during this process. This course helped me in the job market by teaching me how to deal with tricky situations with empathy and allowing me to connect with all types of people, regardless of the situation.
Torini appreciated the support and mentorship of professors like Jennifer Yoder-Cevidence, teaching assistant professor of food and nutrition science, and Josh Christen, wellness program coordinator at WellWorks.
Torini encourages current students to get involved on campus and make the most of their time at university.
"You think it's going to be long, but it goes by so fast," she said. "You kind of forget to take a step back and appreciate where you are in life and what's around you and your friends. Try as many things as you can and remember to to amuse you.
She also urges students to start working on their resumes early, even if they don't know what they want to do after college.
"If you have a good resume and can talk to people and sell yourself, I think that goes a long way," she said.
Torini said the best part of his job is meeting and interacting with new people every day.
"I love talking to people," she said. "I've always enjoyed finding out what motivates people, what they like and what they don't like. It's like finding the missing piece of a puzzle!
As a new manager, Torini says she has put empathy into practice and enjoys getting to know her team members and making sure they are happy in their jobs.
"In terms of management, I discovered that it all relates to the skills I learned in school," Torini said. "So many people are different in so many ways and there's no right or wrong way to lead people. It's more about figuring out what's important to each person and running with it to help them to succeed.
Since graduating, Torini has stayed in touch with her alma mater and has attended several alumni events in central Ohio. She encourages recent graduates and current students to get involved and stay connected as alumni. She said she was looking forward to making her annual trip to Athens this fall for Homecoming.